Gardening is always popular around this time of year. Therefore, we have created a list of essential garden tools and products that you need! This list contains 10 garden tools that will help you get your garden looking Summer ready. We have also included a description of what the product/ tool does and how to use it. Whether you are a beginner or an expert in gardening, we are certain you will be able to follow along with this guide.
1: Lawnmower
Lawnmowers are a huge staple that every garden must have. You get a huge range of lawnmowers that are all used for different purposes. The kind of lawnmower you need depends on the size on lawn you have.
If you have a small lawn, you may only need an electric or cordless lawnmower.
For a medium lawn, an electric, cordless or petrol lawnmower is recommended.
As for a large lawn, you may be best to stick with a petrol lawnmower or driven lawnmower.
This Bosch UniversalRotak 36-550 Cordless Lawn Mower (Inc Battery & Charger) is great for small and medium lawns. It reduces the sound up to 30% by using ProSilence technology. You can fully charge the battery within just 125 minutes, or at 80% in 96 minutes. This lawnmower also has 6 height options and comes with a 40-litre grass bag to reduce the number of times you need to stop and empty out your grass cuttings. You can get the Bosch Universal Rotak 36-550 cordless lawn mower now with a 3 year extended warranty.
2: Weeding- Garden Tools
Weeding tools are another must have for your garden. You use these to remove weeds from flower beds and in-between concrete. There are a huge range or weeding tools available, from hand tools to brushes. However, hand weeding tools are usually the easiest to use and are a cheaper option.
The Fiskars Premium Planters Hand Weed Fork is the perfect tool to get those pesky weeds out right from the root. By removing the root, this helps reduce regrowth and is a long-term solution to weeds. This weed fork is perfect for weeding around plants and in-between concrete.
3: Hand Trowel- Garden Tools
Hand trowels are perfect for planting flowers or seeds. As well as planting, they are great for removing or replacing plants into pots. A trowel is a must have as it is an essential tool when it comes to planting, smoothing, and digging soil.
This Verve Trowel is perfect for planting seeds and removing small patches of soil. It is sturdy and comfortable to use.
4: Water hose/ Sprinkler
When it comes to garden tools, water hoses and sprinklers are usually forgotten about. They are very important and a 100% must have when it comes to maintaining your garden. There is no point in spending hours and hours on making your garden look great and then not maintaining it. All your hard work will be put to waste over time if you don't maintain your garden regularly. You can easily keep your garden looking great by using a water hose or a sprinkler to keep all your plants, flowers and grass hydrated and healthy.
This XHose Expanding Hose pipe (L)7.62m is perfect as it does not kink unlike normal hoses and can be easily stored away.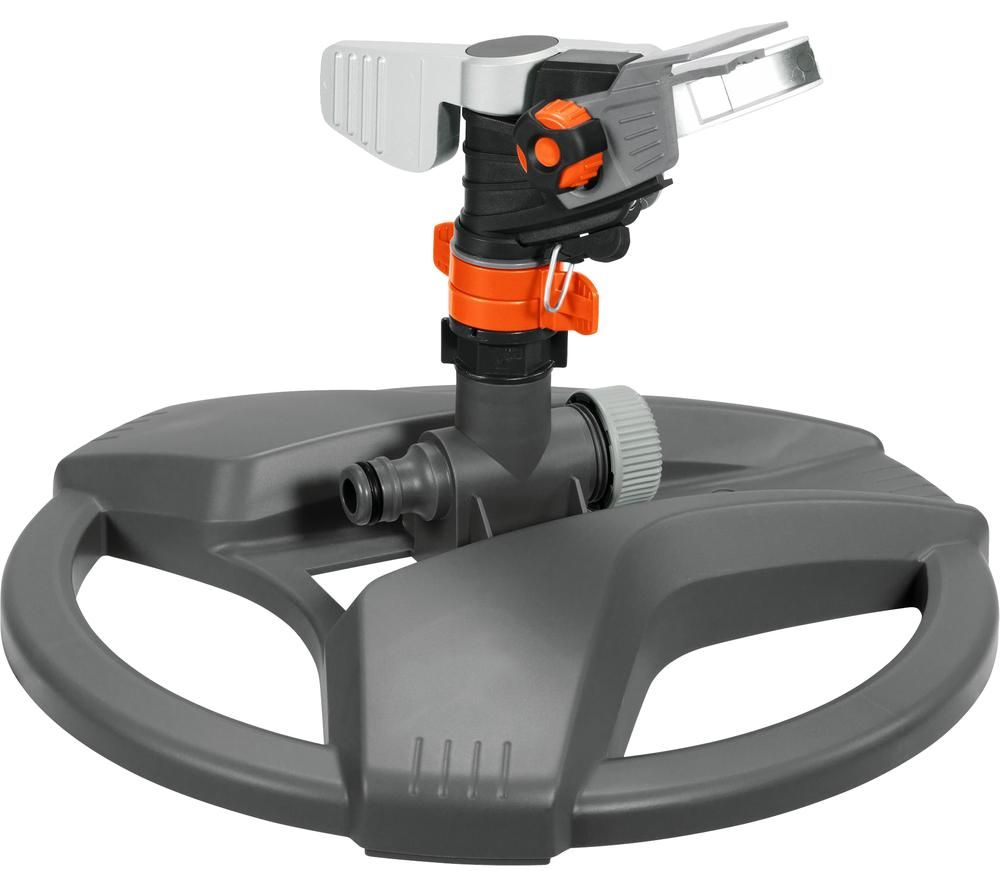 The GARDENA Premium Full or Part Circle Pulse Sprinkler gives you the choice to sprinkle the whole garden or just half, depending on what suits your needs. It has a range of 5 to 12.5 metres and a watering area of up to 490 m², which is great for big gardens!
5: Shovel- Garden Tools
A shovel is once again another obvious must have due to its range of uses and reliability. Whether you are needing to move snow or soil, a shovel is a handy tool to have. You can also use it for digging straight edge holes which you can use to edge flower beds or lawns to create a straighter and tidier look.
This Green Blade Square Mouth Shovel is the perfect shovel as the shape of it means it can be used for most digging/ edging work, unlike a rounded shovel.
6: Hedge Trimmer/ Cutter
Hedge trimmers are essential when it comes to keeping your garden tidy and looking great. Trimmers are used to cut back small branches and leaves to give hedges a nice shape and finish. If you are wanting something for more heavy-duty jobs like cutting back large branches and reducing the length of trees/ hedges, Hedge Cutters are for you.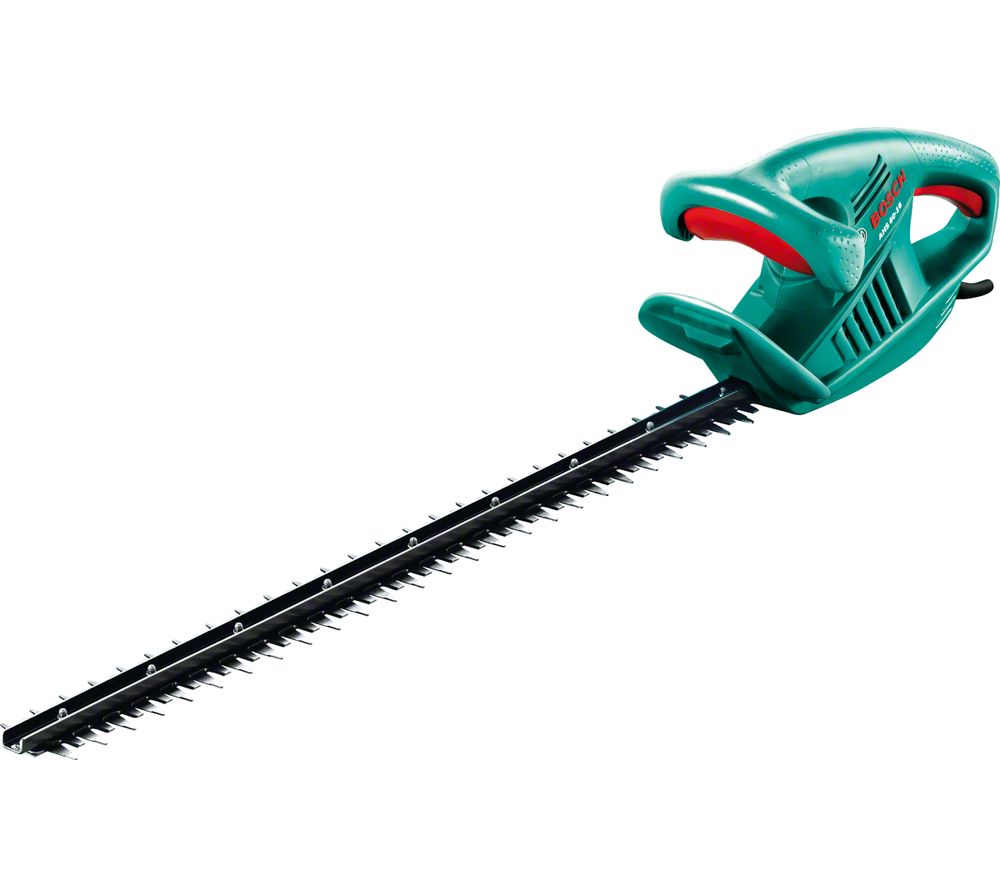 The BOSCH AHS 60-16 Hedge Trimmer – Green, Green is perfect for pruning and shaping tour hedges. Remember, you should not use hedge trimmers for heavy duty work.
The Bosch UNIVERSALCHAIN 18v Cordless Chainsaw 200mm 2 x 2.5ah Li-ion Charger is great for cutting back large branches and trees. It is cordless and light which makes using the tool comfortable and easy.
7: Gardening Gloves
Gardening gloves are a top essential when it comes to gardening tools. They are usually overlooked and thought as unimportant. However, they are very useful to help avoid injury to your hands and should be worn when doing most gardening jobs.
These Verve Green & White Gardening Gloves are perfect to use for all of your gardening jobs. They keep your hands protected from thorns and spikes whilst being comfortable and reliable.
8: Leaf Rake or Leaf Blower
Leaf rakes are perfect for Spring and Autumn time especially. It is easy to use to get rid of dead and fallen leaves throughout your garden. When you rake your leaves, make sure they are dry and not wet. This makes it easier to gather them all up.
This Gardena COMBISYSTEM Fan Rake 1.3m is a great tool for gathering leaves throughout the year. It is reliable and comes with a 25-year guarantee!
In addition to leaf rakes, leaf blowers are a great tool. However, they are better to use if you have a bigger garden. It may take a long time to gather your leaves with a leaf rake if you have a large garden. This is when the leaf blower comes in.
This Bosch ALS 30 Corded 3000W Garden blower & vacuum is a great leaf blower that is also a vacuum. Once you have made a pile of leaves, you can easily vacuum them up where the fan will shred them down and put them into the 45L collection bag. This means you will have less trips to the compost bin and more space in the bin for other compost.
9: Lawn Feed
Lawn feed is great at keeping your lawn green and looking healthy. It is also very easy to use and contains potassium to make your lawn a rich green colour.
The Westland ® Aftercut 3 day green Lawn feed 400 m² 14kg is a brilliant lawn feed and shows results in just 3 days! Lawn feed should be used between February and September. Make sure to use gloves when using this product and wash your hands after use.
10: Wheelbarrow
Wheelbarrows are a great tool to have. They are perfect for transporting soil, stones, pebbles, materials, and tools. Wheelbarrows are very versatile and will always have a use.
This Walsall Endurance Black Steel Heavy duty Wheelbarrow 85L is great for transporting all of your materials from your shed to your garden. It is heavy duty and can hold up to 85L!
Extra Garden Tools for beginners!
Finally, this bundle is also a great starter kit for a beginner who just wants to tidy up their garden.
This Verve Garden tidy Rake broom & shovel pan comes with a rake, outdoor broom and a pan. This is a great garden tools bundle to help get rid of leaves, dirt, and rubbish around your garden.
We hope this list gave you an idea of what products you should add to your gardening collection. Let us know in the comments if you think we forgot about anything!
Tags:
diy
,
garden
,
gardening
,
outdoorliving
,
outdoors
,
tools