Whether you work in oil and gas, automotive, or a completely different industry sector, cutting metal will be important. Different metals will require different cutting tools. We wanted to help you by listing the main tools for cutting metal, and which one is best for you.
Angle Grinder
One of the most useful tools for cutting metal is an angle grinder. There are lots of different types and thicknesses of abrasive wheels available to buy. For standard cutting of steel, we recommend either a cutting disk with a thickness of either 1mm or 1.6mm. For example, this 125X1.0X22.23MM Cubitron Ii Cut-off Wheel is a 1 mm cutting disk recommended for steel tubing, exhaust pipes, clamps and rusted fasteners. A 4 1/2 inch angle grinder will be the best for carrying out the job. Therefore, and angle grinder is one of the best tools for cutting metal. However, it must be noted that this is a fairly heavy tool to hold and control. Otherwise you may not get a straight cut and the wheel could become damaged.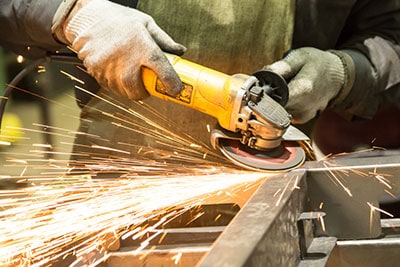 Circular Saw
The circular saw is inexpensive, easy to get hold of, and pretty easy to use. To use the circular saw, you'll need to get a cutting disk which will cut the metal you are working with. They will easily cut through thinner metals such as aluminium. However, when it comes to thicker metals, they may not be the best for cutting straight lines. Another point to make is that hot sparks and metal chips will fly out. Therefore, ensure you are wearing protective clothing.
Oxy-fuel Cutting Using a Torch
If you are looking for a more advanced cutting tool which will cut almost any metal, oxyfuel cutting is an excellent option. Along with gas, an oxyacetylene torch is used. A variety of fuel gases can be used for cutting metal, the most common being acetylene, propane, MAPP (methylacetylene-propadiene), propylene and natural gas. The drawback to this is that it is more of a professional tool. It is also the most expensive of the cutting tools. If you are just looking for a metal cutter for general use and DIY, one of the first two options will be best for you. However, this will be ideal if you are cutting a variety of metals frequently or as part of your professional work.
Top Tips For Cutting Metal:
Hopefully you now know which tool you need for cutting metal and can begin your project. Here are our top tips for cutting metal:
Ensure you are using the correct PPE such as eye protection and gloves.
If you are using the angle grinder or circular saw, make sure you have the right blade for the material you are using.
Lay your metal flat and clamp it at one side. This should help you keep it in place, making your job easier.
Keep a steady hand and cut slowly for increased accuracy.
Enjoy your tool and keep practising with it. The more you get used to cutting metal, the better you will get!
Tags:
diy
,
diyproject
,
handtools
,
metal
,
powertools
,
tools