Fitness Trackers are still booming. Technology is improving with each model released from major brands. After a loooong January, is it your turn to join the trend? We want to help find the best fitness tracker for you.
This guide will go through the top fitness trackers on the market. We can help you if you are doing #FitFebruary this month, need to upgrade your old fitness tracker, or are just looking to buy one to stay healthier.
1. FitBit Charge
The FitBit Charge 2 allows you to effectively and accurately monitor your activity levels through the day. As the Charge 3 is now available, the Charge 2 has seen a major drop of up to £60 off, making it around £80. Therefore, this puts it at the top for us, as you are now getting great value for your money. We recommend the charge 2 for those who just want a basic tracking of their fitness on a compact band.
Top Features:
GPS enabled so you can track your pace and distance, as well as record your running route
SmartTrack technology automatically recognises workouts and records them for you
Monitors sleep quality
Water resistant
Connects to your phone so you will know if somebody calls you
2. Garmin Fenix 5S Multisport
Next, the Fenix 5S Multi5sport GPS Watch from Garmin is for those who are SERIOUS about activity and adventuring. It tracks your distance vertically or horizontally, making it the ideal fitness tracker if you do climbing. Also, it updates information by the minute so you know exactly how you are getting on, and it can be personalised for you.
Top features:
GPS, barometric altimeter and 3-axis compass with gyroscope
24/7 heart rate monitor
Battery life of up to 8 days
Pre-loaded activity profiles ready to track your movements whatever they are
Gives key stats of your performance at your fingertips
3. Suunto 3 Fitness Watch
The Suunto 3 Fitness Watch is a very credible Garmin/FitBit alternative. It is currently available for as little as £89 and has almost the same number of features as the Garmin Vivoactive 3 which is at least £100 more. It does have inconveniences which are that all changes must be done through the Movescount app and it does not have a touchscreen.
Top features:
24/7 data tracking
Tracks calories burned
Sport mode customisation
Route planning
4. Garmin Forerunner
Garmin created the forerunner series specifically for runners. And they did an excellent job! They have brought out a range of different standards of the Forerunner watch. One of the most popular models is the Garmin Forerunner 935 Black & Grey. It is mid-price range for their running watches at around £400, and comes with a lot of useful features. There are also some cheaper and more expensive in the range in order to suit each individual.
Key Features:
Fiber-Reinforced Polymer Case
Chemically strengthened glass screen for durability
Smart notifications sent to watch
GPS to map out your routes
Water resistant to 5 ATM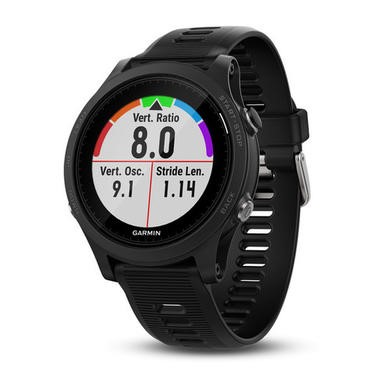 5. Apple Watch
The Apple Watch Series 3 GPS + Cell 38mm Space Black Stainless Steel Case with Space Black Milanese Loop is another great fitness tracker. The main difference apple has is that they position themselves more as a smart watch, where as the likes of Garmin and FitBit position themselves as activity trackers. We therefore recommend this if you care about a watch which is personalised and links seamlessly with your iPhone.
Fitness tracking-wise, it comes with all the major features such as steps, mapping runs, and heart rate monitoring. The main problem with this watch is that it is only compatible with iPhones.
6. FitBit Versa
The FitBit Versa Watch gets some of the best reviews in the world of activity tracking smart watches! In fact, it is probably one of our favourite lower price watches at Fairwayrock. This is mainly due to its versatility and comparability. It is also a reasonable price for the features. If you like the style of the Apple Watch but not the price or its compatibility, this is a good choice for you.
Top Features:
Gorilla Glass 3 screen
15+ exercise modes (including run, swim, yoga)
Compatible with all major smart devices and computers
Over 4 days battery life
24/7 Heart Rate Monitor and activity tracking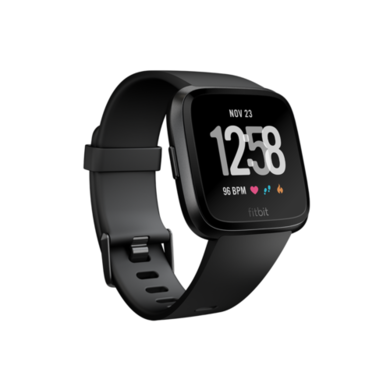 Time To Get Fit
The market for these type of watches is growing, with many popular brands bringing them out. Above all, the main reason for purchasing one of these is to keep healthy. But they do come with a lot more benefits. Which fitness tracker you choose will likely come down to the extras you want.
If you are not bothered about design and just want to keep track of your steps, you'll be best off going for the FitBit Charge 2. However, as we have looked at, the other watches have more functionalities. If you do a lot of sports, we would recommend paying the extra for more complex devices. It is also important to consider whether or not the device will store music to listen to while you exercise. If this is something which is important to you, it might be beneficial to pay slightly more for one which does.
If you are looking to start becoming more fit, we also want to recommend you to the NHS Couch to 5K scheme. We strongly encourage this, as it has some excellent results and will allow you to put your fitness tracker to good use!
Tags:
ecofriendly
,
exercise
,
fitness
,
tech
,
trackers